Merch Whores
So with the last Exhibition behind us, it now seems like a slew of Eyesore types have stuff to sell.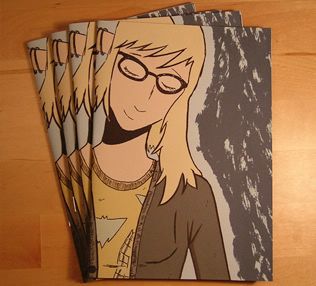 I (Marc) have a new mini comic out called
The Venal Muse
. It's what I'd call a "conversation to the reader" regarding my thoughts about the subject of the 'muse.' How one lets a person influence their creative side, whether or not it's actually real and how loosing someone can just ignite it even more.
It costs
£6
which covers p+p to anywhere in the world. 28pages b/w with a colour card cover.
Click
here
to buy.
Here's what John has to say about his book;
The Symphonie Fantastique.
'The images draw from a later era than the verse, being reminiscent of the German Expressionists. They were achieved by the harsh scratching of paint with scribes, knives and nails, a technique similar in effect to woodcut but with finer detail. The images are carefully composed in order to reflect the rhythm and mood of the verse, developing from restrained and simplistic, to sombre and ultimately to grotesque and vulgar, achieving a visual equivalent of Berlioz' music and how it ingeniously portrayed the narrative.'
Read more and buy it from
here
.
£60
hardback, leather bounded.
Pariah
also have their debut e.p up for sale on their
myspace
page. Pariah consists of Thom from the post below and John from the above paragraph. Their music (like their art in some aspects) is inspired by their current surroundings and how fucked up town life in general can be. Some very honest and brutal lyrics matched with this fierce speed acoustic and violin combo of sound.
It costs
£7.50
which includes P+P to the UK. No cd-r's were used in the distrubition of this release!
James Holcombe
also has a book out which he collaborated with author
Paul Bevis
and design unit
White Leaf
called
Hairdos
. You can get a preview of it
here
and you can buy for it
£8.99
from James' store
here
along with his other books Jaunt and Hum. I really, really liked Jaunt, so maybe buy that while you're buying Hairdos?
God and while I'm fucking at it (because god knows who needs sleep when you can blog all night long, sweet jesus!) Andrew Kerr from our friends at the Mentalist Association has a mini comic out called
Extreme VS Extreme
and it's a comic of fights! It comes with stickers! Of things! Fighting! It's pretty lollllllllll.
Cost =
£2.50!
Site =
yes!